5 Easy Kid-Friendly Camping Meals
When I go camping, particularly car camping, I tend to enjoy more extravagant meals (especially compared to when I'm backpacking). Hey, I like good food okay! And car camping holds no bars: you have plenty of room, you're not worried about how much weight to carry (hellooo cast iron pans), and you can be more indulgent with your meal choices. Car camping for the win.
These camping meals are slightly more extravagant than your typical backpacking meal, but are easy enough to whip up in a pinch. Plus, kids love them – guaranteed! I used to be an incredibly picky eater, but when my parents made these meals on our camping trips, I gobbled them up in a flash. Here are 5 easy kid-friendly camping meals to get you through a trip with the kids.
5 Easy Kid-Friendly Camping Meals 
Breakfast Skillet Hash
This is an easy way to sneak in some veggies, and is super easy to make! Simply roast your veggies of choice in a cast iron pan, add scrambled eggs, and mix together until cooked well. Serve with some toasted bread and you're set for a balanced, filling breakfast.
You can leave this vegan, or make it as a regular BLT. Kids love it either way. Definitely keep our vegan mayo addition though; it's amazing AND healthy. Serve this sandwich for lunch or enjoy on a midday hike.
If you want vegetarian fajitas, use smoked tofu. If you don't, replace with chicken. Similar to the hash, start by cooking your veggies and protein in the cast iron. Add the veggies to your tortillas, top with salsa, guac, and sour cream, and enjoy!
Quesadillas
Have you ever met a child that doesn't like quesadillas? I haven't. If your kids are picky eaters, keep these quesadillas simple with plain ol' cheese and chicken. To jazz them up a bit, throw some veggies or beans in there. Simply grill your vegetables in your cast iron, grill your tortillas on your camp stove, then cook all together in the cast iron until melty. Easy as that. Alternatively, try pizzadillas.
Banana Split S'mores
These banana split s'mores (healthy is all about balance, right?) are the quintessential camping dessert. They're easy, require few ingredients, and take almost no time to prepare. More importantly, they taste like heaven on earth.
Ingredients (for 1 serving):
1 banana

2 tbsp mini marshmallows

1 tbsp semi-sweet dark chocolate chips

2 graham crackers

Optional: 1 tbsp peanut butter
Note: For less sugar, omit marshmallows and just use chocolate chips and peanut butter. It's still amazing!
Instructions:
Slice open your banana lengthwise with a paring knife, but be sure to leave the bottom peel intact. Cut the banana lengthwise, and then in quarter inch slices horizontally.

Gently mash the marshmallows into the banana, then add your chocolate chips.

Cover the banana in aluminum foil. Place over the coals of a campfire (not in the middle of the fire).

Over the coals, let the banana cook for about 7-10 minutes, or until the s'more is melty.

Remove from fire, tear away the tin foil, and, if using, add your drizzle of peanut butter to the banana mix. Scoop out the chocolatey, gooey mixture with graham crackers or a spoon.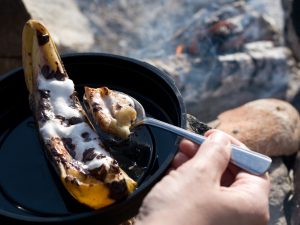 Going for a hike on your camping trip? Check out these 10 healthy hiking snacks. Looking for a vegan treat to snack on too? Try our chickpea cookie dough. Got other camping food suggestions? Follow us on Facebook (Be Fresh Local Market) or Instagram (@befreshlocal) and let us know!